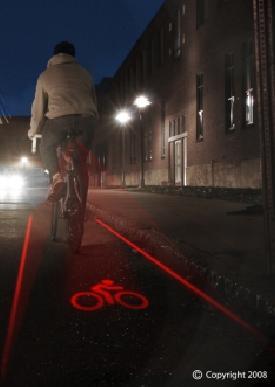 Once again, Boing Boing earns its mon­niker as a "Direc­to­ry of Won­der­ful Things." Behold, the bike-light that paints a laser-lit bike-lane on the road around you, a con­cept by Alex Tee and Evan Gant.
Of course, this would be redun­dant in most of Ams­ter­dam, where more than 400 Kilo­me­ters (249 miles) of the city's roads have wide, con­ve­nient­ly marked bike lanes already installed. And it wouldn't be all that much use in the­se, the 11 most bike-friend­ly cities.
But for those have-not streets, and have-not cities, this is bril­liant. Now, when do we get the activist ver­sion, which leaves a paint­ed ver­sion behind?