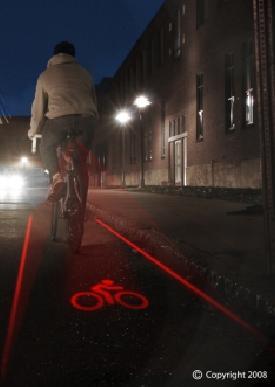 Once again, Boing Boing earns its monniker as a "Directory of Wonderful Things." Behold, the bike-light that paints a laser-lit bike-lane on the road around you, a concept by Alex Tee and Evan Gant.
Of course, this would be redundant in most of Amsterdam, where more than 400 Kilometers (249 miles) of the city's roads have wide, conveniently marked bike lanes already installed. And it wouldn't be all that much use in these, the 11 most bike-friendly cities.
But for those have-not streets, and have-not cities, this is brilliant. Now, when do we get the activist version, which leaves a painted version behind?