It was always going to be the *perfect* BoingBoing story: Greenpeace France publishes a Google Map showing locations of GE Crop fields. Farmers take Greenpeace to court. French Government orders map and webpage removed, despite the fact that the French Government is in fact obliged under EU law to make the locations of commercial GE sites public.
So the court order tells Greenpeace France to remove the map "from all websites it publishes." Well now, Greenpeace France doesn't publish the Greenpeace International website, does it? We republished the map from our servers in Amsterdam.
And to top it off, Greenpeace France carves a crop circle in one of the fields to mark the alien invasion.
Net Censorship, high tech tactics against a clueless court, government double standards, and a wacky crop circle twist. How could it NOT be a BoingBoing story?
For future instructional purposes, it's always good to try and get the BoingBoing tone and style just right.
This is what I submitted (via the approved Suggest a Link method, NOT by email):
Greenpeace France has been ordered to remove a Google Map from its website revealing the locations of Genetically modified cornfields — information which the EU actually *requires* the government of France to make public. Greenpeace France complied with, but will likely appeal, the censorship order. They also carved a giant crop circle X into one of the fields, making its location visible from the air. Greenpeace International is now hosting the map from its servers in Amsterdam. "If the French government won't provide this information to the French public, we will" said Greenpeace International spokesperson Suzette Jackson. "It's outrageous that Greenpeace France is being censored while the French Government fails to uphold EU disclosure law."
This is what Xeni ran:
France: Greenpeace can't show
GE

crop sites on Google Map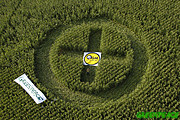 A French court has ordered Greenpeace France to take down a web page with a Google Map that shows locations of commercial, genetically engineered corn fields in France. Greenpeace argues the online maps should not be censored because an EU law requires the French government to make the crop site information public anyway.Greenpeace responded by carving a giant 'X' crop circle into one of the genetically engineered corn fields the courts banned in digital map form.
"Greenpeace France complied with, but will likely appeal, the censorship order," Brian Fitzgerald of Greenpeace tells BoingBoing, "And Greenpeace International is now hosting the map from its servers in Amsterdam."
——————
Good journalism standards there: Xeni took my statement of objective fact about the appeal and server location and made them attributed quotes to myself.  Fair enough, there was no evidence she had to hand or in the article to confirm that.
And she cut the predictable soundbite, which admittedly was knocked together in the few seconds between when the story went live and hitting the send button on the Submit link. We were trying to hit the early morning edit session of BoingBoing. Its five editors have very distinct windows in which they work, Cory Doctrow's being dictated by the UK timezone he lives in, and as Cory had run an earlier story on Monsanto's attempt to patent its new invention, the pig, we reckoned we'd aim for his watch.  But in the end it was Xeni who picked it up from her US homebase.  (And in true Seven Degrees of separation style, I see Xeni has a tangential link to Greenpeace. Check out these images of her, shot by none other than former Greenpeace IT Geek turned war photographer turned wired contributor turned Katrina documenter Jacob Applebaum.)
Have I said I love BoingBoing lately?
I LOVE BoingBoing.…